Dear Angels & Heroes worldwide,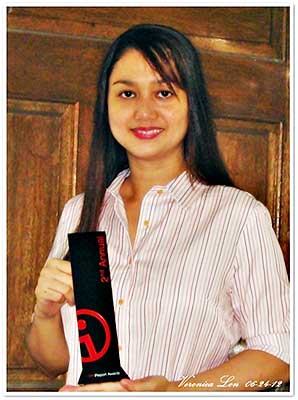 The much awaited trophy award for Angel Veronica has arrived! Allow me to announce again to the world how proud I am that our Philippine Missions Coordinator, Angel Veronica Mendoza has been notified by David Williams, community manager of CNN iReport that the CNN community has chosen Angel Veronica as one of the six 2012 CNN iReport Spirit Awardee out of one million international iReporters.
Jojo Sayson, President/Founder of Project Michelangelo Foundation

http://edition.cnn.com/ireport-awards/spirit-honorees#gonzales

The iReport spirit award goes to a reporter who makes the community a better place.:
"Veronica Mendoza is one of the driving forces in the close-knit and dynamic group of Filipino iReporters. The group combines storytelling and community service in exciting ways — holding beach cleanup dates and collecting and delivering aid to typhoon-ravaged parts of the country. Mendoza also shares fascinating and beautiful slices of culture in the Philippines." - CNN

Angel Veronica's message:

" I would like to let you know that I wouldn't have been honored as a CNN iReport Spirit Awardee without your help and the great support of our Project Michelangelo Family.
Thank you so much for your trust and confidence in me.
I offer this award to my Project Michelangelo Foundation Family and to my countrymen who are in need.
God bless.

Veronica P. Mendoza