Latest News
Dr. Imelda Cruz Banting, PMF VP Launches her CD "Music & Med, Doc Ime"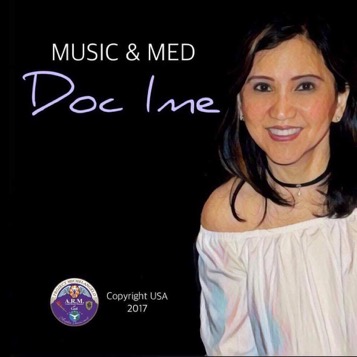 Doc Ime finished recording her own music CD which is a compilation of all original songs written by herself and her two children, Rodlyn-mae and Rico Banting. A physician-singer extraordinaire, angel Doc Ime's kindness extends to donating proceeds from the sale of her CDs to be used for the empowerment and rescue missions of PMF as well as to benefit the Progeria children in the Philippines. For further information on how to acquire her CD with a $25 donation (plus shipping), please contact us at info@projectmichelangelo.org.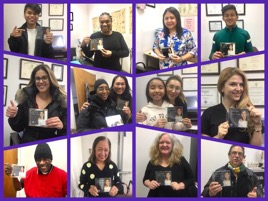 ---
Angel Rising Magazine Spring Issue Submissions Call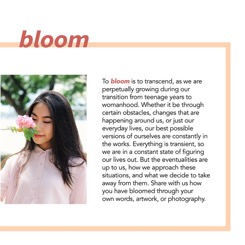 Our angel Jade Sayson, Editor-in-chief of Angel Rising Magazine (ARM) announces a call for submissions for our upcoming March 2018 Spring Issue. We will shift from quarterly publication to bi-annual issues with improved style and class at par with prestigious magazines worldwide. Angel Rising Magazine, a free on-line publication, continues its successful mission 3 years in the making to empower women to change the world. Please visit us on FB or at www.angelrisingmag.com


---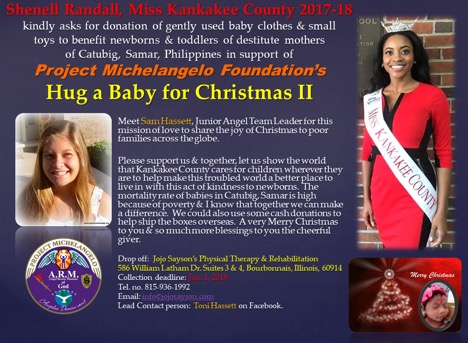 Hug-a Baby for Christmas II commenced Dec. 16, 2017 and extended through January 2018.
Project Michelangelo Foundation wishes to thank Shenell Randall, Miss Kankakee County 2017-18 (Miss Illinois/Miss America Organization) for helping us with our Hug a Baby for Christmas II together with our Junior Angel Team Leader Samantha Hassett (daughter of Toni Hassett & Rick Hassett). Please consider to donate any gently used baby clothes & small toys we will send to impoverished newborns & toddlers in Catubig, Samar island, Philippines. Donation of cash is also much appreciated. Watch our Hug-a-Baby video documentary from last year: https://youtu.be/oxBHxSmeMb4
---
Big Angel, Little Angel Sisters get united in the Philippines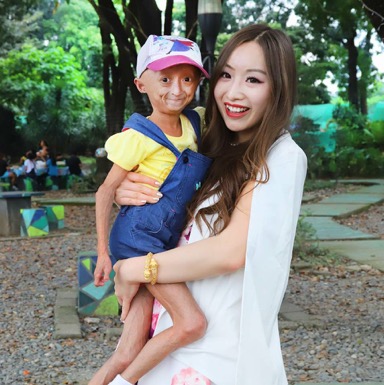 Our very own angel Meiling Jin, Chinese Ambassador and member of the Board of Directors of Project Michelangelo Foundation flew from Chicago to Manila last Dec. 2017 to visit our junior angel Kim Asis and our PMF Philippines family under the guidance of Mr. Enrico de Guzman, Executive Director of PMF Philippines. As angel Meiling attests, meeting Kim is a life-changing opportunity when anyone who spends time with her is blessed with such joy in life and a change of outlook from worry and fear to courage and renewed life. Project Michelangelo Foundation is the protectorate of Kim Asis and three other known children afflicted with Progeria in the Philippines. To make a donation to help Kim and all the children under our care, please visit https://www.gofundme.com/project-michelangelo-2017-budget.
---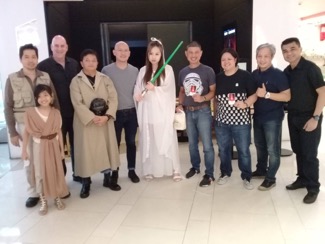 Star Wars to Star Peace for Project Michelangelo Foundation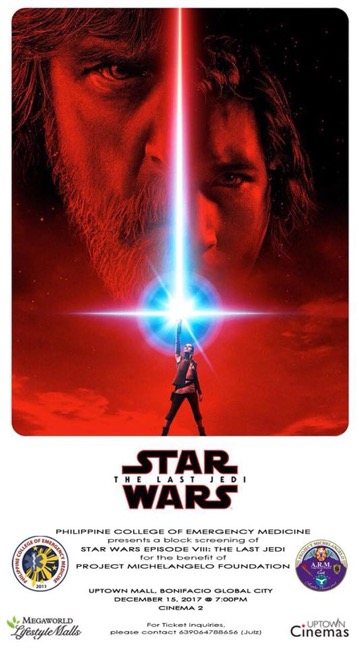 A block screening of Star Wars, Episode VIII, The Last Jedi on Dec. 15, 2017, Friday was held at the Uptown Mall Cinema 2, Bonifacio Global City 6 pm show. This block screening was organized by the Philippine College of Emergency Medicine to benefit Project Michelangelo Foundation (PMF), the official protectorate of Filipino children with Progeria (advanced aging disease). As a special treat, officer-celebrities of Project Michelangelo Foundation were present to greet the audience in person before and after the showing. In attendance were our angel Jedi Meiling Jin, PMF International Board of Director who flew in from Chicago for the event & our angel Apol Mora, Queen of our Beautiful Planet 2017 & spokesperson for Angel Rising Magazine.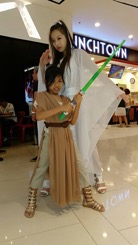 ---
---
About the Foundation
Project Michelangelo is an independent and private organization established in 2011 and conceived from human elements of compassion and hope mobilized into angelic-like response for humanity through educational endowment for needy but deserving children and young adults, assistance to children with cancer and life-threatening diseases, helping grant a wish for a terminally-ill child, and partnership with rescue organizations in times of calamities and disasters.
The name Michelangelo means "messenger who resembles God" and is the image and essence of the foundation's mission in delivering hope and watching over to empower the children of the world and their appointed guardians. Our commitment to accountability and unique innovations will lead us into the heart of communities anywhere on the planet where these children belong through collaborative means. We believe in hope to change the world into a better place to live in through education and setting of a moral code through passionate belief in the Almighty in the hope of finding and nurturing the next generation world leaders.
Project Michelangelo revolves around the belief that teaching a paradigm shift in the minds of children from helpless to powerful can help them achieve any dream in life they can ever imagine. This Foundation is based in Illinois, USA and currently collaborates with the Republic of the Philippines.


Please donate to our
Project Michelangelo 2018 Budget
---


---

Project Michelangelo Foundation
---
Project Michelangelo Foundation is registered under both The Charitable Trust and The Solicitation for Charity Acts CO# 01068679 issued by the Office of the Attorney General of the State of Illinois, 03/06/15
"Each one must give as he has decided in his heart, not reluctantly or under compulsion, for God loves a cheerful giver"
-2 Corinthians 9:7
Meet Rochelle, and learn about her life with progeria.
Meet our International Board of Directors
Along with Project Michelangelo founder Jojo Sayson, this humanitarian team is dedicated to grant wishes worldwide.
---
Mission Statement
To ignite the fire of compassion in the human heart, to give hope and inspiration, and to take action in helping empower the children of the world and its appointed guardians.
Motto
An Angel and a Hero for every child.
---