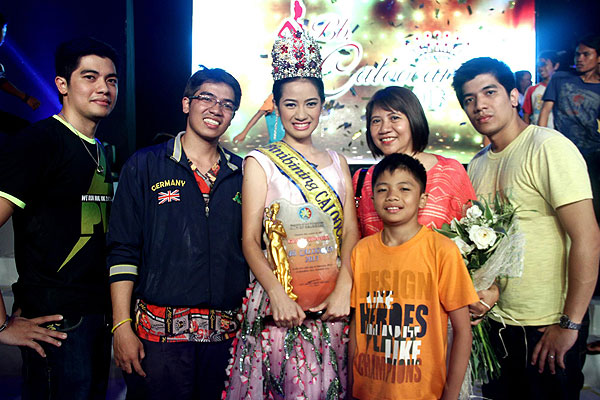 Our Youngest Angel in the Philippines, 'Eunice'.
by Veronica Lon
Eva Eunice Reinoso, 18, University of Santo Tomas Conservatory of Music Voice-Musical Theater Student is the reigning Miss Calloocan City 2013 and a Miss Philippines Earth 2013 candidate.
Reinoso, a very gentle, warm and adorable young woman who always has a smile for everyone, is the youngest member of Project Michelangelo Foundation in the Philippines.
On June 30, 2012, she led a group of 70 flash mob performers (all volunteers) at Tiendesitas, Pasig to help raise awareness on the needs of the hearing impaired youths in the Philippines. This was Project Michelangelo Foundation's first public awareness event to show support to People With Disabilities. With Reinoso's great help, the affair was a huge success. With her grace and skills in dancing, she faithfully and cheerfully choreographed the flash mob dance number and taught all the volunteer performers at the Informatics College, Eastwood, where she promptly attended all rehearsals. When asked about her family, Reinoso graciously said, "I have a loving and happy family. I am the only girl of 5 siblings and all of the family members are very supportive." On April 8, after attending a Miss Philippines Earth Seminar, she said, "I'm so amazed to know that God really has His own ways of making people aware and care about our surrounding."
Let us vote for our very kind angel Eunice and help her win the Miss Photogenic award at the 2013 Ms. Philippines Earth! LIKE the official Ms. Philippines Earth page and her photo.
Official voting for Miss Photogenic is also available via the Miss Philippines Earth website (www.missphilippines-earth.com) Please like the page before the picture.