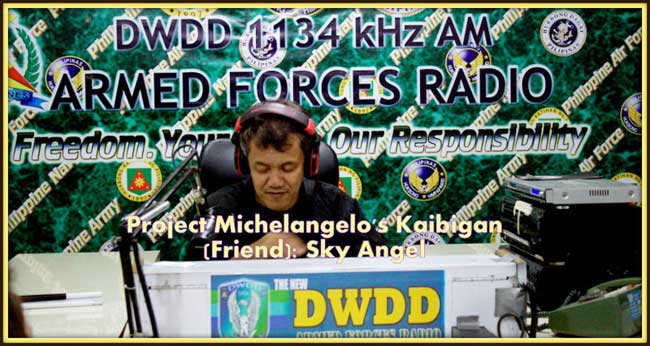 Project Michelangelo goes live on DWDD Philippine Armed Forces Radio: Kaibigan (Friend) Sky debut
Project Michelangelo's Friend: Sky Angel on DWDD 1134 khz AM Radio.
By Angel Veronica Lon Pantaleon
(Philippine Missions Coordinator)
March 1, 2013 from 9:00 to 10:00 PM, was the first episode of 'Sky Angel', a radio program that gives women and children information that directs to infuse in them a sense of dignity, ability, economic independence, and their constitutional and legal rights. The host, Rommel 'Bulagkaster' San Pascual, is a certified Armed Forces of the Philippines radio broadcaster of DWDD 1134 khz. San Pascual is a retired Philippine Navy, a revolutionary hero whose story is exhibited at the AFP Museum and a director of the Kapisanan ng mga Brodkaster ng Pilipinas (Broadcasters' Association of the Philippines). Co-hosting the program 'Sky Angel' is Veronica 'Lon' Pantaleon, a teacher, free-lance writer and photographer, CNN iReport 2012 Spirit Awardee and the Philippine Missions Coordinator of Project Michelangelo Foundation. Another program co-host is Miss Therry Alpa, AFP and Explorer Daily Newspaper columnist and Philippine Science journalist.
Through an international phone patch from Chicago, Illinois, interviewed on Sky Angel's first episode was Dr. Jojo Sayson, President and founder of Project Michelangelo Foundation (www.projectmichelangelo.org), a research scientist for NASA Human Research Program at the University of California, San Diego, board of director and examiner of Ola Grimsby Institute, CEO of Jojo Sayson's Physical Therapy and Rehabilitation, and Lieutenant Commander for the Philippine Coast Guard Auxiliary, 103rd Squadron, CGADNCR-CL.
Sayson expounded the history and mission of Project Michelangelo Foundation and tackled some issues on abuse against women and the Filipino culture.
Warm greetings and messages from Canada and US listeners/viewers (through http://www.afpradio.ph/ live streaming) were received by the program. Many of the listeners are Overseas Filipino Workers. Interviews of uplifting and stimulating individuals, discussion and depiction of success stories will be regular parts of the show. The aim of 'Sky Angel' is to inspire and empower through information, guidance and entertainment. This program will tackle areas of concern among women and children. 'Sky Angels' will cover topics such as how to gain awareness and solutions regarding abuse, healthy boundaries and healing.
WATCH OUT for the March 8 episode of 'Sky Angel' and hear Sherrie Gearheart, Miss Southern Illinois 2013, Vice President of Project Michelangelo Foundation, founder of Live out Loud Charity and editor of Tiara Magazine, share enlightening and inspiring stories. More Sky Angels to be interviewed thereafter. Let Sky Angels be with you, be empowered and ignite your life. Tune in to Kaibigan (Friend): Sky Angel every Friday.
Send questions and messages to:
email kaibigan.skyangel@yahoo.com (ym id)
mobile number 0999 119 29 89.
Project Micheangelo' Kaibigan: Sky Angel airs at DWDD 1134 khz (am radio) every Fridays from 9:00 to 10:00 PM (Philippine Time) with live streaming at http://www.afpradio.ph/.