A CHRISTMAS REFLECTION 2013
by Dr. Imelda Cruz-Banting,
International Medical Director, Project Michelangelo Foundation

"For I was hungry, and you fed me. I was thirsty, and you gave me a drink. I was a stranger, and you invited me into your home. I was naked, and you gave clothing. I was sick, and you cared for me. I was in prison, and you visited me." - (Matthew 25:35-36)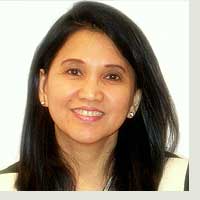 With the unimaginable disaster that hit the middle islands of the Philippines, the whole world heeded to the call. Our Foundation worked double time to raise funds and send its angels to carry over another mission. Project Michelangelo Foundation (PMF) has done several of this kind…but this time the magnitude is beyond compare. Both the American and Philippine chapters of PMF sought different ways of soliciting donations from their families, friends, co-workers, clients, patients, and even acquaintances just to be able to send help to the hardly-stricken survivors of the so far, strongest typhoon/cyclone ever recorded, Haiyan- Yolanda.

Filipinos are known to be very resilient. The Philippines is always among one of the leading happiest countries according to various surveys conducted. Maybe, this is one reason why God let this natural disaster hit our beloved motherland. Filipinos are extremely enduring, patient, and hardworking by nature, thus any calamity is survived with a smile at the end. Our faith is steadfast, that we always run to our Father God when things seem to be hopeless. Because of this, we are able to rise again, with new goals envisioned and renewed strength eve mightier.
This Christmas will definitely be different from all the Christmases that the survivors ever had though. They have no houses to celebrate it in with their families, even worse for those who lost some of their members. They will not have food to eat, nice new clothes and shoes to wear, especially for the young ones, and no comfortable beds to sleep on. But for sure they will still feel the true meaning of Christmas, which is celebrating the birth of our Lord, Jesus Christ. They will be very grateful for the second chance that they are having through the outpouring aid from the very generous hearts all over the world.
Through the combined efforts of Jojo Sayson, Doc Ted Esguerra, Doc Sylvia Agudo-Pacle, and myself, the medical mission in Tacloban was a successful one followed by another feeding mission for 500 children by our new angel recruits. Lastly, PMF also collaborated with the Philippine Coast Guard Auxiliary, 103rd Squadron for a feeding mission in Ormoc, Leyte. A million thanks to the family, nurses, psychologists, and friends of Doc Sylvia who gave her full assistance from the procurement of medicines, food, construction tools, tents, and toys up to the actual evaluation and treatment of the sick ones, distribution of goods, and playing fun games with the kids. And not to forget, more blessings to the donors who did not have any second thoughts in extending their great share. From all the angels, heroes, volunteers, & donors of PMF, we wish you a very Merry Christmas and a Happy New Year.

"And the King will tell them, "I assure you, when you did it to one of the least of these my brothers and sisters, you were doing it to me." - Matthew 25:40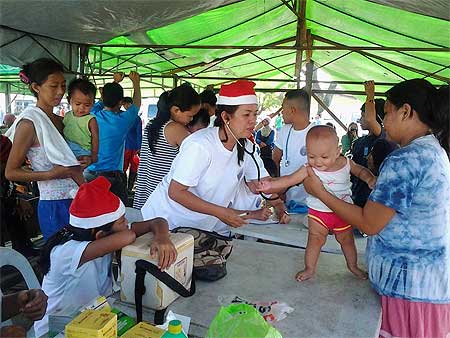 Angel Doc Sylvia examines a toddler survivor from Typhoon Haiyan-Yolanda, Dec. 14, 2013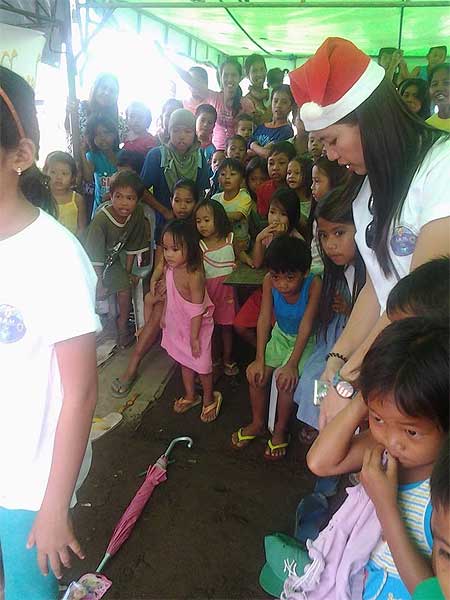 Empowerment games with the children of Tacloban City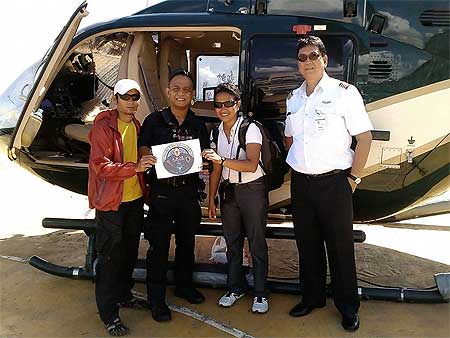 Doc Ted, PMF Chief Medical Officer, displays the official mission patch of Project Michelangelo, A.R.M. (Angel Rescue Missions) of God, during his rescue and relief operations in Tacloban City.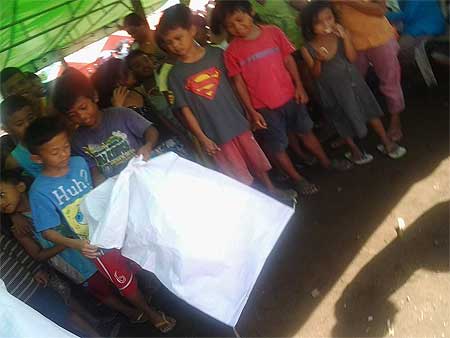 The grateful children of Tacloban City, the reason why PMF serves humanity