Latest News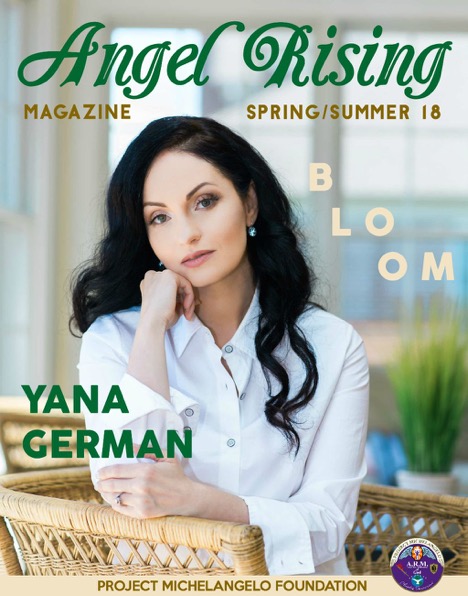 Our Angel Rising Magazine Spring/Summer 2018 issue is here! This is a free online magazine to empower women by women read all over the world! Here is a message below from Jade Sayson, ARM Editor-in-Chief
www.angelrisingmag.com
"To bloom is to transcend, as we are perpetually growing during our transition from teenage years to womanhood. Whether it be through certain obstacles, changes that are happening around us, or just our everyday lives, our best possible versions of ourselves are constantly in the works.
Everything is transient, so we are in a constant state of figuring our lives out. But the eventualities are up to us, how we approach these situations, and what we decide to take away from them.
So for our Spring/Summer 2018 issue, I am happy to share with you the words from these incredible women, each with their own unique stories. Once again, we appreciate your support towards Angel Rising Magazine, and this goes for every single person who has poured their hearts into making this happen, even in the slightest ways possible. I'd like to send out a special thanks to Frankie Paloma, who took over the layout design this time around. I've been going through a big change myself, with a million things on my plate between college and my career, so we had to make a few adjustments. This issue would not be here today if it wasn't for Frankie stepping in with all her hard work and dedication, and we're excited to have a new member joining us on this journey.
We hope to inspire you once more, and let's always keep in mind that change is inevitable, change is terrifying, but change is good. It's okay to fear and to embrace it, because without it, we'd never learn, would we?"
---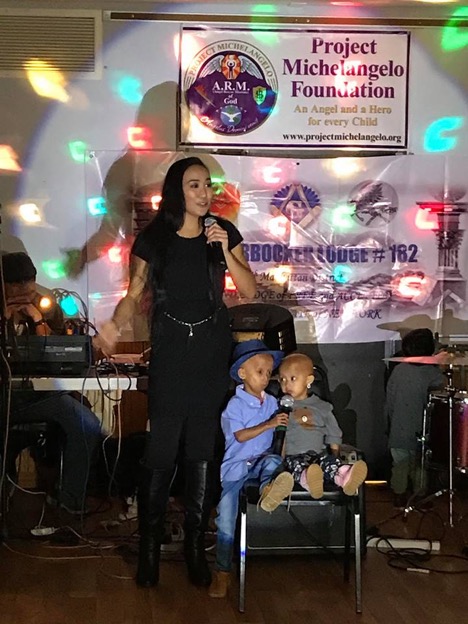 Project Michelangelo Foundation New York welcomes Jeshaiah and Nezha, our Progeria kids from the Philippines!
With the leadership of PMF Vice President Doc Imelda Cruz and angel Dj Chinita, a successful fund drive concert "A race Against Time" was delivered last March 17, 2018 held at a packed Whitestone Masonic Hall in Queens, New York. It was attended by the Filipino-American community with an amazing cast of volunteer musicians who all performed with such passion that even our special guests Jeshaiah and Nezha even sang impromptu with guest singer Excelsa De Jesus, Miss Republic of the Philippines International 2018 with the rendition of "You Raise Me Up." This amazing performance brought the audience in passionate fellowship leaving no dry eye in the audience. A special thank you and much love to all our donors from New York to around the world who all made this event a success and truly a race won against time. Click below for a special thank you video from Jojo Sayson, Jeshaiah, & Nezha. https://www.youtube.com/watch?v=DkX9rUkPwLU&t=17s
---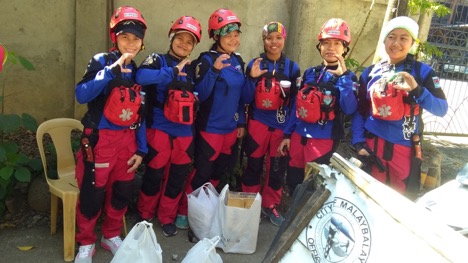 The PMF Northern Mindanao trains its first all-female Firefighter Angel Team
With the leadership of PMF Northern Mindanao Angel Team Leader and field commander Rhondell M. Paraiso, an all-female firefighting response team was enrolled in April 2018 for training as an immediate adjunct to the greater forest fire preparedness initiatives through CDMU of Bukidnon State University, a formal partner of Project Michelangelo Foundation.
---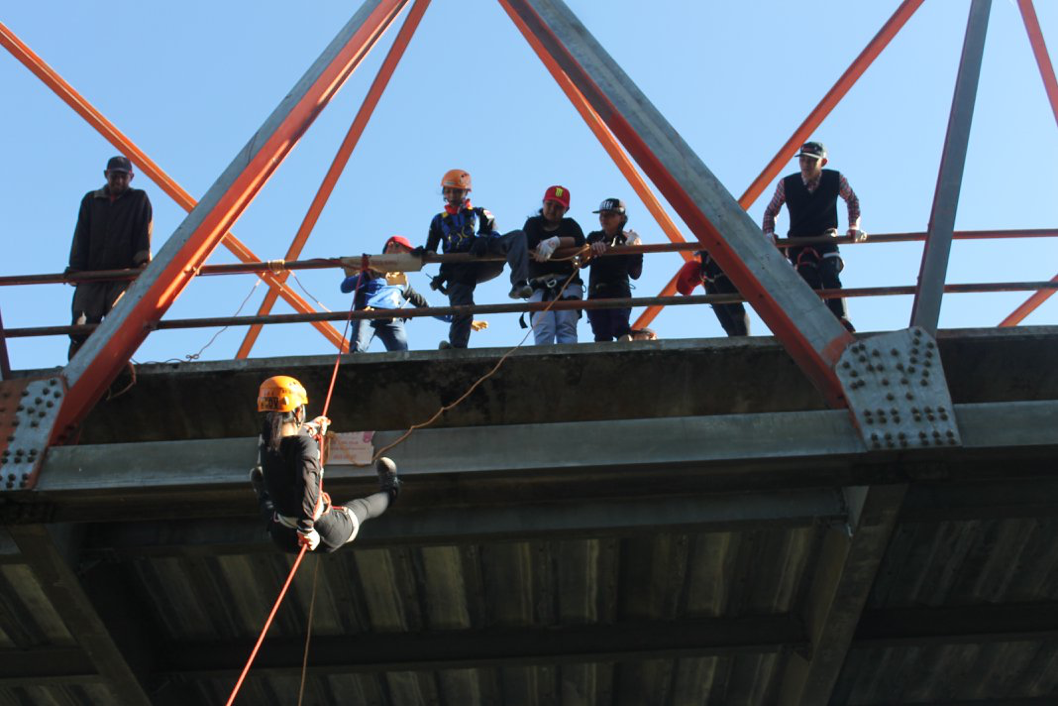 Mission Miarayon with Rhondell M. Paraiso and the PMF Northern Mindnanao Team
Congratulations & adulation to angel bro Rhondell Melendez Paraiso and the amazing angels of PMF Northern Mindanao Team in the Philippines for another successful empowerment mission to the Talaandig Tribal Youth of Miarayon last April 14, 2018! The angel team taught emergency rescue and life skills (safety and the culture of disaster preparedness are not common to the locals), the value of human dignity and mutual respect, stewardship of the natural resources, service to God and country. Miarayon, Talakag, Bukidnon is 2 hours away from the nearest hospital and emergency response agency and thus, the need for immediate preparedness in times of natural or manmade calamities by training the tribespeople. In partnership with St Therese School of Miarayon, the volunteers of Project Michelangelo Foundation International, Northern Mindanao Team thru Mission R.E.A.C.H., a capability-building initiative, was conducted since 2017. This mission was authored by Doc Ted Everest Doc Esguerra, the PMF Chief Medical Officer, Field/Rescue Commander. The design of this mission is intended for the youth (Lumad, Christians and Muslims) of Northern Mindanao.
---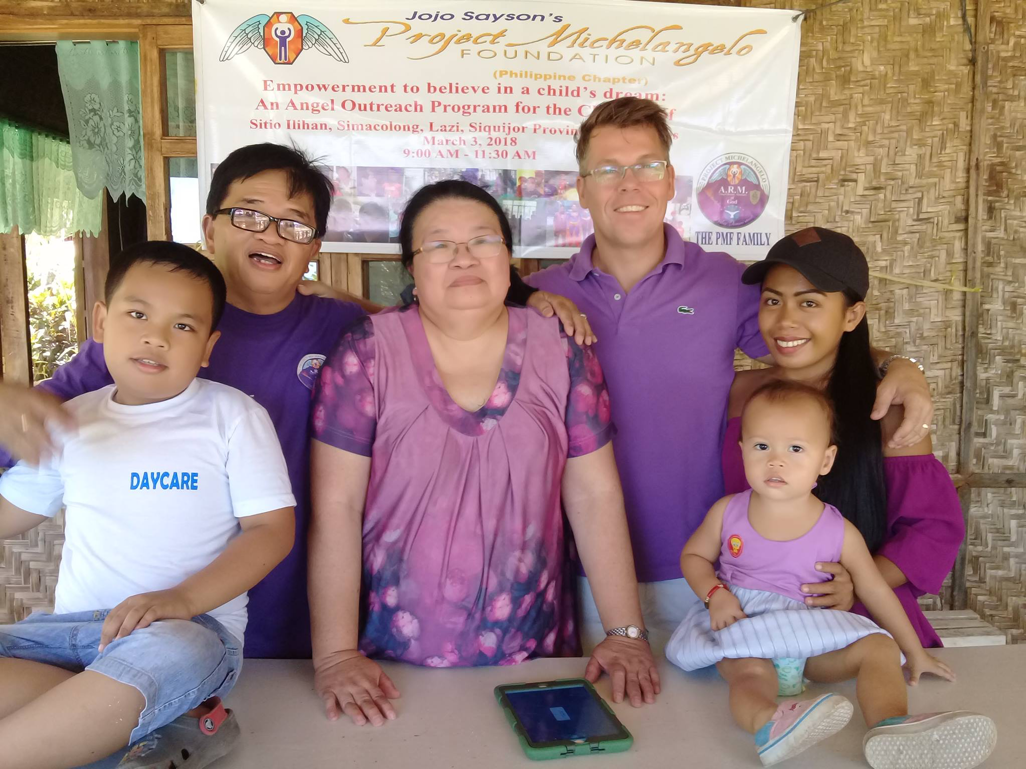 PMF Angels Enrico and Kevin Lands in Siquijor Island, Philippines March 3, 2018
Another empowerment mission with educational supplies for children this time in the far-flung island of Syquijor, Central Visayas, Philippines was held last March 3, 2018 in another expedition by angels Enrico from Manila and Kevin from Bohol Island (originally from Illinois, USA). They were accompanied by their families during this mission. Here is an excerpt from our angel Enrico below:
''When distance never came as a stumbling block to fulfill a promise, when the children's hope became a reality, then the virtual pledges turned out to be an answered prayer! PMF (Project Michelangelo Foundation) with Proyekto Michelangelo Filipinas (PMF Philippines.) and the very strong support of friends who gave us what they can selflessly share, the dream mission became a reality! OUR SINCEREST GRATITUDE TO ALL OF YOU, WHO BELIEVE AND TRUST US IN WHAT WE DO!"
---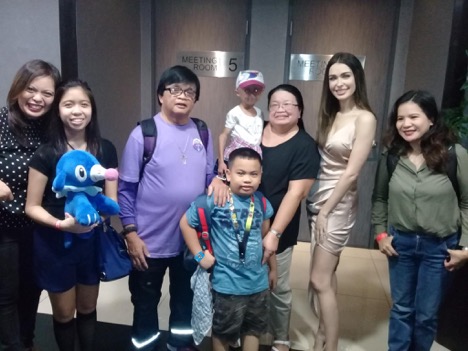 Kim Asis escorted by PMF at the 1st Comicon Asia in Manila 2018
Project Michelangelo Foundation joins the superhero enthusiasts during the 1ST COMICON ASIA in the Philippines featuring our very own superhero, junior angel Danielle Kim Asis last March 24, 2018 at SMX, Mall of Asia. The invitation was initiated by visiting PMF donor from New York, Mrs. Janette De Guzman. Together with PMF Executive Director Enrico De Guzman, PMF Progeria Liaison Dennis Asis and their families, the big day was spent with much excitement meeting superheroes and celebrities! PMF is the official protectorate of children diagnosed with Progeria in the Philippines.
---
---
About the Foundation
Project Michelangelo is an independent and private organization established in 2011 and conceived from human elements of compassion and hope mobilized into angelic-like response for humanity through educational endowment for needy but deserving children and young adults, assistance to children with cancer and life-threatening diseases, helping grant a wish for a terminally-ill child, and partnership with rescue organizations in times of calamities and disasters.
The name Michelangelo means "messenger who resembles God" and is the image and essence of the foundation's mission in delivering hope and watching over to empower the children of the world and their appointed guardians. Our commitment to accountability and unique innovations will lead us into the heart of communities anywhere on the planet where these children belong through collaborative means. We believe in hope to change the world into a better place to live in through education and setting of a moral code through passionate belief in the Almighty in the hope of finding and nurturing the next generation world leaders.
Project Michelangelo revolves around the belief that teaching a paradigm shift in the minds of children from helpless to powerful can help them achieve any dream in life they can ever imagine. This Foundation is based in Illinois, USA and currently collaborates with the Republic of the Philippines.


Please donate to our
Project Michelangelo 2018 Budget
---


---

Project Michelangelo Foundation
---
Project Michelangelo Foundation is registered under both The Charitable Trust and The Solicitation for Charity Acts CO# 01068679 issued by the Office of the Attorney General of the State of Illinois, 03/06/15
"Each one must give as he has decided in his heart, not reluctantly or under compulsion, for God loves a cheerful giver"
-2 Corinthians 9:7
Meet Rochelle, and learn about her life with progeria.
Meet our International Board of Directors
Along with Project Michelangelo founder Jojo Sayson, this humanitarian team is dedicated to grant wishes worldwide.
---
Mission Statement
To ignite the fire of compassion in the human heart, to give hope and inspiration, and to take action in helping empower the children of the world and its appointed guardians.
Motto
An Angel and a Hero for every child.
---